Access to eResources
This option lets you visit a web page through the library's proxy server. If the page you are visiting is one that the library has a subscription for and you're presently off-campus, then you should get immediate access to the resource.
Use the libraries' Proxy Server Bookmarklet:

Mozilla Firefox: Click on the link and drag it to your browser Bookmarks bar, or right click on the link and select Bookmark This Link.
Chrome: Click on the link and drag it to your Bookmarks bar.

Now you can click the bookmarklet link to reload your current page with the proxy URL included.

Or add the proxy URL manually in front of of the source URL:

https://ezproxy.uochb.cas.cz:2443/login?url=

https://ezproxy.vscht.cz/login?url=

https://ezproxy.techlib.cz/login?url=

Example:
https://ezproxy.uochb.cas.cz:2443/login?url=https://onlinelibrary.wiley.com/
You can customize Google Scholar to provide full-text links to journal articles available via library subscriptions.
Visit Google Scholar, go to Settings, choose Library Links in the left-side/top menu and search your institution. Mark up to 5 results and save.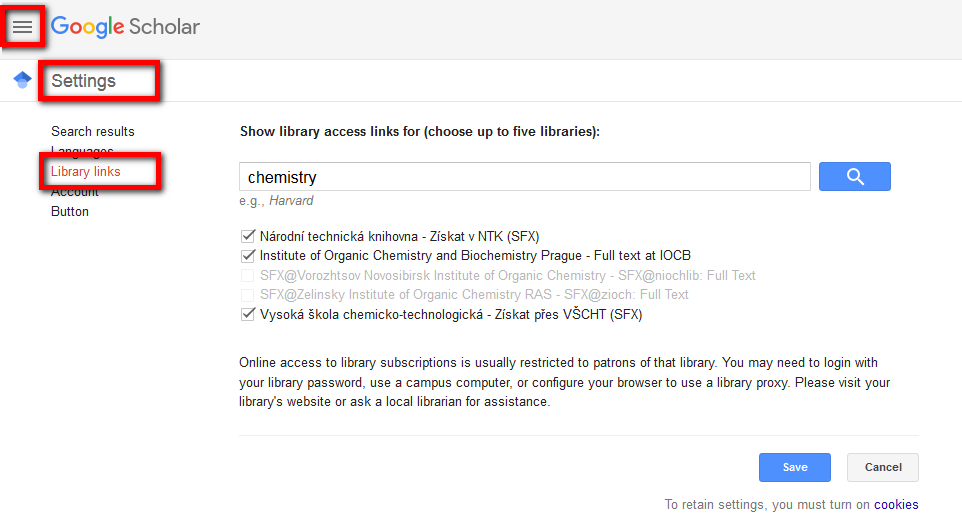 Now you can see library links (SFX - see below) to the right of your search results when full text of an article is available.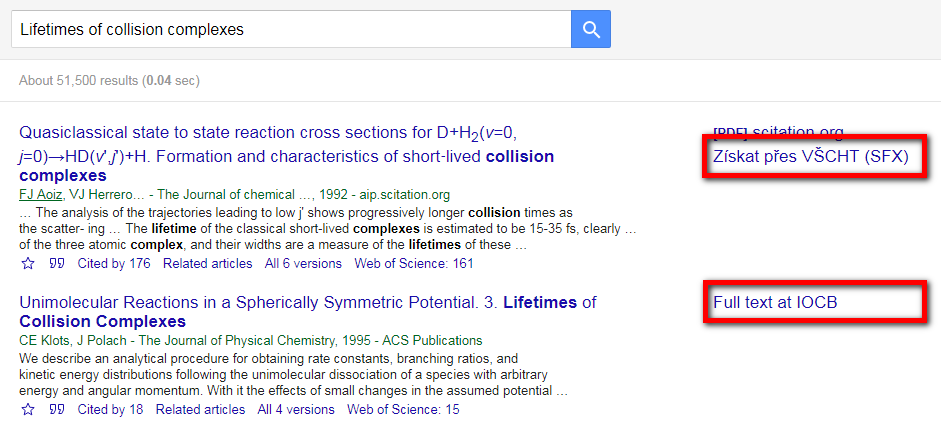 Warning: This setting will be remembered until you clear your browser cookies.
You can easily access full texts via Web of Science/Scopus databases using library button (SFX - see below).
Web of Science
Scopus
Warning: Since access to these databases is via subscription, you need to open them using the links on library web pages, or you can gain direct access by adding the proxy server URL prefix. Access is provided by all three institutions (UCT, IOCB, and NTK).
EndNote offers a Find full text

feature which automatically imports the full text of a PDF into the existing references in your EndNote Library. If full text is not found, you have the option to configure EndNote to search through library subscriptions of all three institutions. It may increase your success in finding full text.
First you need to configure the function in EndNote. From the Menu, select Edit, Preferences, Find Full Text, then in the OpenURL Path field insert: https://sfx.techlib.cz/sfxlcl41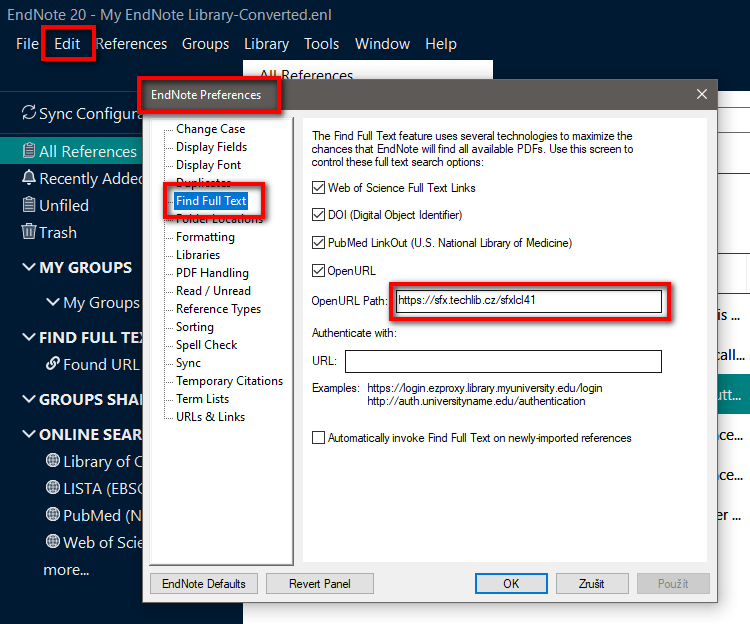 Select the reference for which you would like EndNote to locate the full text and right-click on your mouse, then select OpenURL Link, and in the SFX window (see below), select an institution with full text available.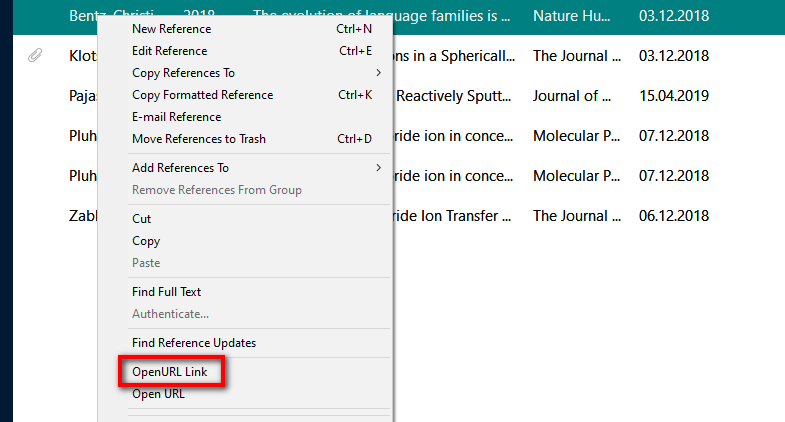 See also the video tutorial on the EndNoteTraining Youtube channel.
Warning: The OpenURL feature is available only in EndNote desktop version.
UCT Prague students and employees can use remote access via VPN client + proxy server set in your browser. Installation and setup instructions:
---
Your searches will be routed via our SFX linking server in most cases. SFX will provide you with up-to-date information on the availability of eResources for all three institutions (see NTK/VŠCHT/ÚOCHB tabs) and you can get full texts directly via the links. If you are not yet logged in, you will be prompted to enter your username and password (either NTK or UCT/IOCB credentials).